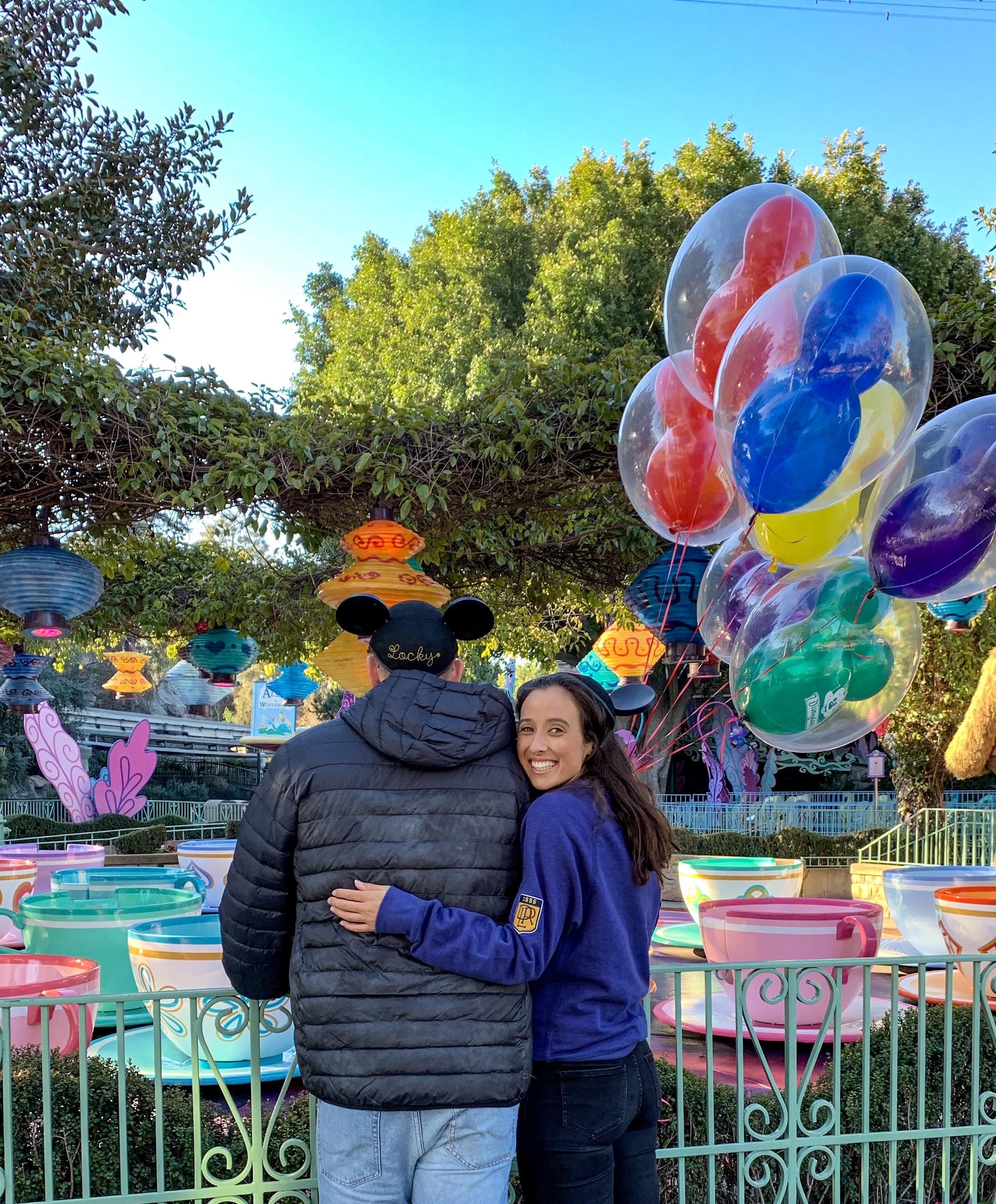 Welcome to the…
H

A

P

P

I

E

S

T

P

L

A

C

E

O

N

E

A

R

T

H
Disney holds a very special place in my heart, it was my first 'real' job when I left school and I worked on Saturday Disney for nearly 4 years. I went to a performing arts school and at the end of year 12 everyone either went on to acting courses, full time dance courses or to uni… Then there was little ole me, very unsure as to where life was going to take me.
I had an agent at the time and they told me about an audition to work at Hong Kong Disneyland… EVERY KIDS DREAM. So I went along, with no real expectations. Low and behold I made it to the final round, there were maybe 6 of us left out of hundreds of girls. A couple of weeks later I got a call from Russ who was the casting director, telling me that I had landed the job.
This experience opened so many doors for me and taught me so many valuable work/life  lessons. Without even realising some of them at the time; like learning to budget and save, cook and clean for myself, be a reliable cast member and to work as a team. I made some forever friends during my 7 months and even though we don't speak often when we do catch up where ever we may be in the world it's like not a moment has passed.
This is a story about Disneyland so I am going to skip ALOT and just focus on the 'Disney' parts.
In 2013 I landed one of my dream roles as a host on Saturday Disney, another pinch me moment. During my first couple of months on the show we were told to pack our bags 'YOU'RE GOING TO DISNEYLAND!" We shot a whole episode from Disneyland in Anaheim and it was absolutely magical.
There were a couple more trips to LA with Disney during my time on the show. Moments where I totally fangirl-ed at some of the events, like Disney Descendants Red Carpet, visiting the set of Girl Meets World and Dog with a Blog and also having the chance to chat with the team from Radio Disney. I'm so extremely grateful for all of the travel opportunities and experiences we were given.
Now lets fast forward to 2019…
Locky (boyfriend) had never been to Disneyland, and I'm not sure if you can gather from reading above but I love Disney. 
I was contacted by Disney asking if we wanted to visit the park…YES! Just two big kids running around Disneyland for a week, SIGN ME UP. As soon as we landed at LAX we took a shuttle to Disney's Grand Californian hotel, where we were staying for the next four nights. Dumped our bags in the room and then we hit the park, sleep who needs it right!
The Disneyland APP is incredible, last time I visited I didn't have it but it was actually a life saver this trip. You can pre load your tickets, organise your fast passes and download photos from photographers or from rides you have been on.  
You definitely need more than one day to explore. Especially because there are two parks; Disney California Adventure Park and Disneyland. Wear comfortable shoes because you are going to be hitting well and truly over the 10,000 steps per day mark and if you're wanting to see any of the shows make sure you line up at least 30mins before it starts to make sure you get a spot. 
Our first two mornings we were very lucky to be granted access into the park before it opened. One morning we went to California Adventure and the other was at Disneyland. This was another of those pinch me special moments. We met other creatives from around the world; Mexico, Japan, Canada, Korea and the Aussies. Repping the Aussie flag were x4 other families and Locky and I. (@fatmumslim ,  @clairecollected ,@mumpacktravel , @flightcentre) – Check them out, they all ROCK!
Most of our days were planned via our Disneyland App, we would book in our fast passes and race around skipping the queue. We also ate a lot of food, you can book into restaurants using the app as well.
FOOD WE LOVED: 
Storytellers Cafe – which was at our hotel, you could have breakfast, lunch and dinner with Mickey, Minnie and their friends which is always a blast.
LampLight Lounge – pretty funky and I'd suggest booking in a spot there to watch "World of Color'. 'WOC' is my favourite show to watch at California Adventure, I literally cry and sing every time I see it.
New Orleans – Make sure you visit this quirky place, located in Disneyland. We ate the most delicious Mickey-shaped Beignets
Flo V8's Cafe – This is in Cars Land at California Adventure
Napa Rose 
+ we always were getting little snacks and Mickey shaped food throughout the park daily! 
SHOWS TO SEE:
There are so many shows and attractions to see. You can be walking around and all of a sudden you'll see a the Dapper Dan's performing or you might meet the Evil Queen roaming around the castle. Never a dull moment at Disneyland.
Some of the shows we saw and LOVEDD were: 
Frozen – This was Locky's favourite! I'm sure I heard him singing along to all of the songs… I may even have video evidence of it too if he denies! 
Mickey and the Magical Map – Such a fun and colourful show
Mickey's Sounsational Parade – I loveeee a good parade, waving at the characters, you literally feel like such a big kid! 
World Of Colour – I've mentioned it before and I'm mentioning it again, it is my favourite! The songs, the lights, the atmosphere… just the whole show! LOVE IT!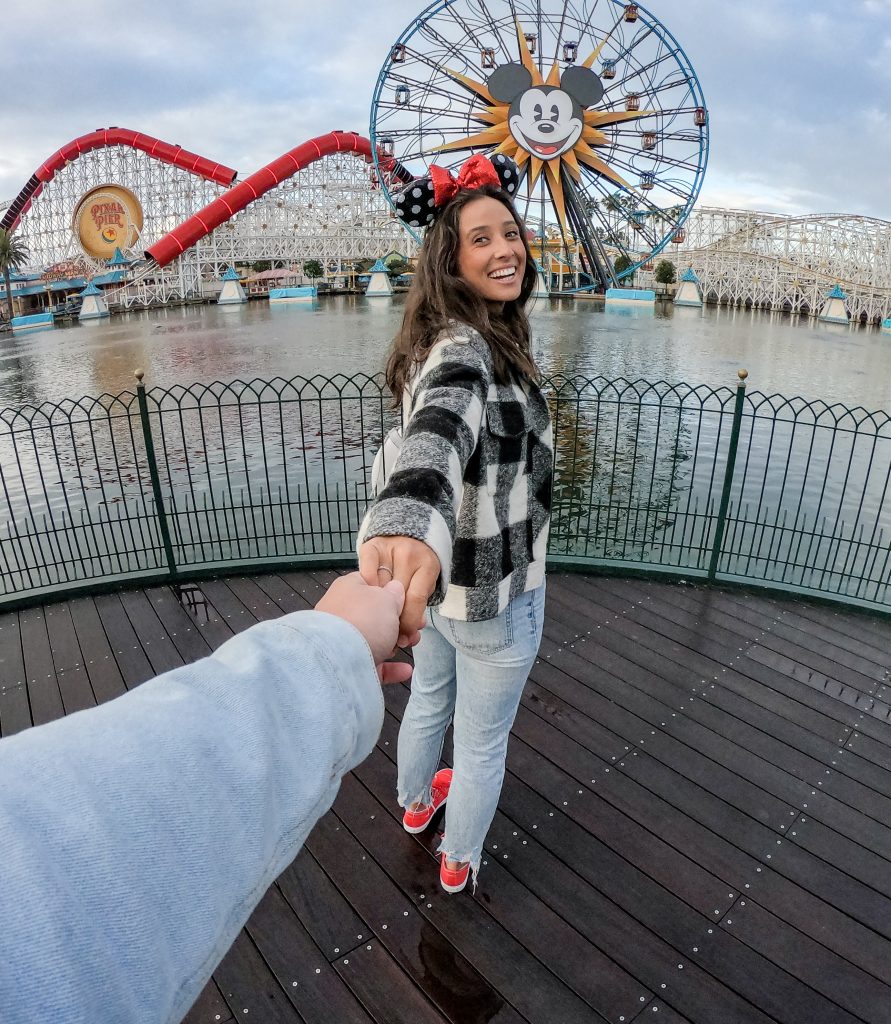 LET'S TALK RIDES:
Whether you're a thrill seeker or you just want to chill, there are rides that cater to all.
Our favourites:
Soarin' Around the World  – This was our all time favourite ride, I think we went on it everyday!  
Guardians of the Galaxy: Mission – Breakout! – if you don't mind loosing your stomach!  
Incredicoaster – such a blast! 
Buzz Lightyear Astro Blasters – things got very competitive between Locky and I on this and I have to admit he won this one… 
Toy Story Midway Mania – another competitive ride, where I got him back and took out GOLD! 
Splash Mountain – if you sit up the very front you are going to get wet. We were sitting in the first and second seat and we were soaked from head to toe… we loved it! 
Haunted House 
Indiana Jones
Tea CUPS! – I'm a bit of a wimp when it comes to spinny rides so I didn't let Locky spin us too fast! 
All of the rides are SO MUCH FUN! These were just some of our favourites! 
D
I
S
N
E
Y
L
A
N
D 
Locky and I had the most magical time at Disneyland! It definitely brings out that inner child in all of us. One of my favourite moments was when Locky met Goofy… I'm not sure who was more Goofy. Locky gave him the biggest hug and it was V cute to see. It doesn't matter how old you are, where you're from or what you look like. Disneyland is for everyone! 
Love, 
One very happy GAL! 
T x